The thickness of the stretcher could be 2cm or 3cm, the costs for prints wrapped on 2cm or 3cm are the same. We use the 3cm stretcher bar for all of the prints by default, so you could send us a note for using 2cm stretcher bar for your prints. We also have 3.8cm thick stretcher bars, but the cost for prints wrapped on 3.8cm stretcher bar is higher, so please contact us for exact quotation if you'd like the prints to be wrapped on 3.8cm thick stretcher bar, thanks.
All the canvas prints have the characters--Vivid color& Color fading resistant & Waterproof & UV protective coating.
All the finished stretched canvas prints are fixed with hang system, ready for directly hung on the wall, one prints with one shrink film, 4 protect paper corners.
Color border Wrapping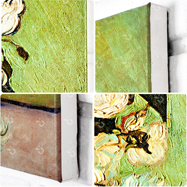 We are able to just print your full image on the front of the canvas and then have a colour on the sides of the canvas. Most commonly a simple black or white is used on the canvas frame sides.
Mirror border wrapping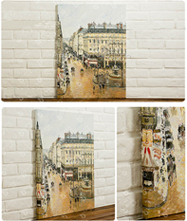 Mirror wrapping just simply mirrors your image onto the sides of the canvas frame thus displaying your full image on the front of the canvas while still giving the gallery wrapped look.
Full image wrapping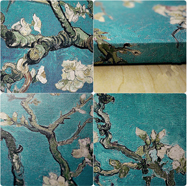 Full image wrapping is done by request. This is not our default option as very important parts of the image can be lost to the sides of the canvas frame when the image is wrapped.